I've often claimed that left to my own devices I'd become a vegetarian.  I think I was always half joking when I made that claim but, oddly enough, since P has been out in Hong Kong and I've just been cooking for myself it's kinda, sorta happened.  Without even realising it, I'm now down to eating meat once or at the most twice a week.  This week I did have some chicken one evening, the rest of the week it's been vegetarian all the way - mainly involving quorn as I cooked up a large batch last weekend and had quorn lasagne twice and then two lots of quorn shepherds pie.  It was rather tasty but quorn is not the cheapest veggie option there is, plus I have to be careful not to eat too much of it as it can disagree with me if I have a quorn overload.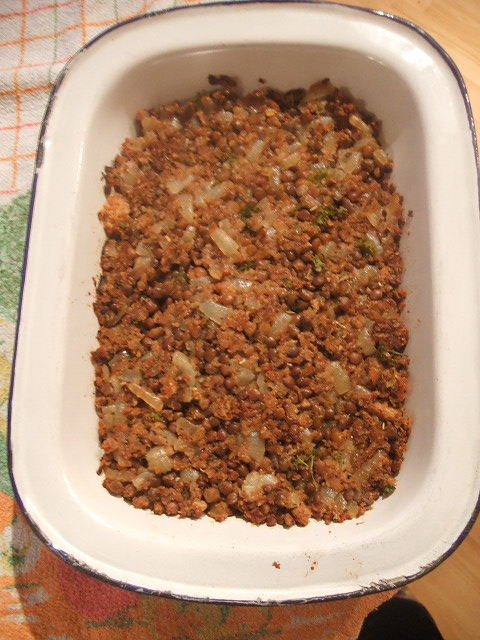 Tonight's meal was lentil loaf from a Rose Elliot recipe, which has been slightly adapted by me.  To one tin of lentils add 3oz of breadcrumbs (I had two wholemeal crusts to use up which was handy), two finely chopped and cooked onions, some fresh parsley (a pot of which had miraculously survived not only the move from Essex but also the freezing weather this winter), a teaspoon of mixed dried herbs, two teaspoons of Marmite and juice of half a lemon.  Mix all the ingredients together and cook at gas mark 4 for approx. 45 minutes.  I cover my loaf with foil to stop the top getting too crispy.   Rose Elliot's original recipe adds pineapple rings on top of the loaf but I never really enjoyed that variation of it so now I just have it au naturel!! 
I'm guessing the ingredients for this cost approx. 60p, maybe 70p.  Served with carrots, cauliflower and broccoli and topped with a white sauce this little lot will do me two evening meals with probably enough lentil loaf left over to have cold for lunch one day next week - it's very nice cold with a dash of sweet chilli sauce on the side.  Uber cheap wholesome food which is very tasty and nicely filling on a chilly evening.