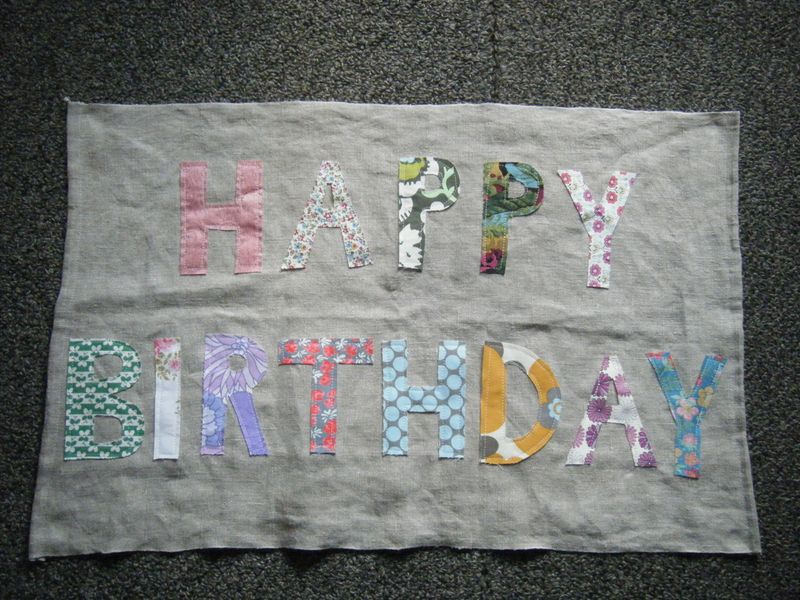 I resorted to taking the Happy Birthday banner up to Mum's house to photograph and upload it there.   Oddly enough, it seems to work OK on Mum's computer!!  
Anyhoo, this is the birthday banner I made - being inspected here by Lily.  I was inspired by 
this banner over at Treefall Design
 but didn't have any plain fabric to use.  Cue a very lucky charity shop find a couple of weeks ago (nice piece of ecru coloured linen) for 75p and, being sans printer, another lucky discovery of some graph paper in the desk at home to draw the letter out on, and I was away.  The letters were all made using bits and bobs of leftover fabric that I had in the stash with some iron-on interfacing to give them some stability. Then it was just a case of getting them laid out on the linen and sewing them down on the machine. It didn't take very long to make at all (though I did it in fits and starts) and cost me less than £1.00. It'll be having another outing at the beginning of May for Mum's 'round' birthday, too.
And as I had the digital camera out this afternoon, I just had to take a few snaps of Lily soaking up the sun.  Aww, she is a lovely girl.