Last week P mentioned that there was going to be a 'Book People' book sale in the canteen at his place of work, and asked if there were any books I wanted at the moment. There certainly was - the 'Nigella Express' cook book by Nigella Lawson. I've very much enjoyed the series on TV, and have really wanted to get my hands on this book. I never thought they'd have it at the book sale as it is obviously a brand new book and is, presumably, selling very well at the moment. Lo and behold!, a very pleased-with-himself P arrived home with this.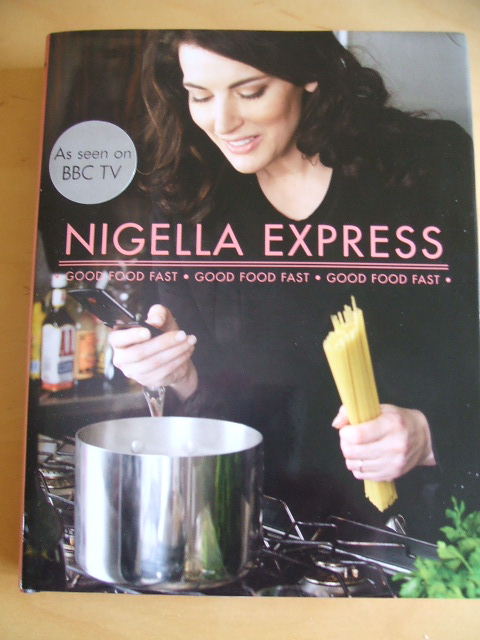 For the bargain price of £10 (as opposed to the cover price of £25.) It's just as good as I'd hoped it would be, absolutely jam-packed with gorgeous-looking recipes - and all super quick to cook, my idea of cook book heaven. And the end-papers are a photo of Nigella's wonderfully well-stocked pantry. I aspire to have a pantry like hers one day.
I've been a fan of Nigella's recipes for a few years now. The first book of hers I got was 'How to Cook', and it has given me at least half a dozen recipes that have become firm favourites in our house.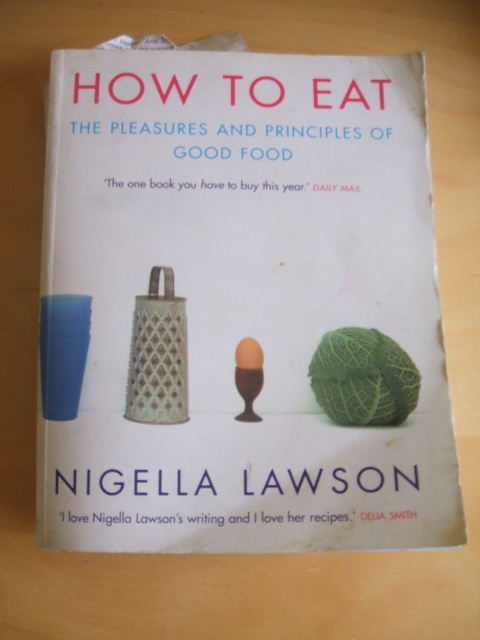 I think you can tell by the dog-eared and slightly messy state of my copy that it is a cook book I use regularly. Some of my favourites from this book are mushroom risotto, salmon fishcakes, spaghetti carbonara (a wonderfully tasty and quick dish) and, when I've a whole afternoon to dedicate to cooking, gammon in cider.
The other stand-by cook book of mine is this incredibly tatty copy of Rose Elliot's Complete Vegetarian Cookbook.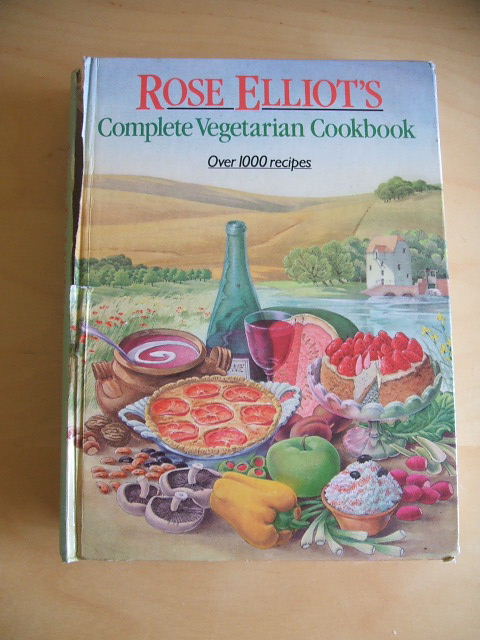 I've had this book for over 20 years and it shows. The spine is hanging on by a thread, and the pages are well-thumbed to say the least. I use this book whenever I want to make a tasty vegetarian soup - the mushroom soup and the beetroot soups are particularly yummy, or whenever I have some exotic or unknown (to me) veggie in the organic box. I don't think Rose Elliot has ever let me down when it comes to finding a recipe which uses up vegetables in an exciting and tasty way. It also comes out whenever I want to make an out-of-the-ordinary salad or vegetarian main course. I think that left to my own devices I would pretty much become vegetarian, and we certainly have at least three or four evening meals which are totally vegetarian anyway. If anyone is looking for a good all-round vegetarian cook book I can certainly recommend this one as the recipes are fairly simple, easy to follow, and the end results are tasty and nutritious. It is, without, doubt, my all-time favourite cook book. I'd love to know what cook books you use time and again.
*For those too young to remember this catchphrase, it came from the Jimmy Young show on Radio 2, as he always featured a daily recipe.