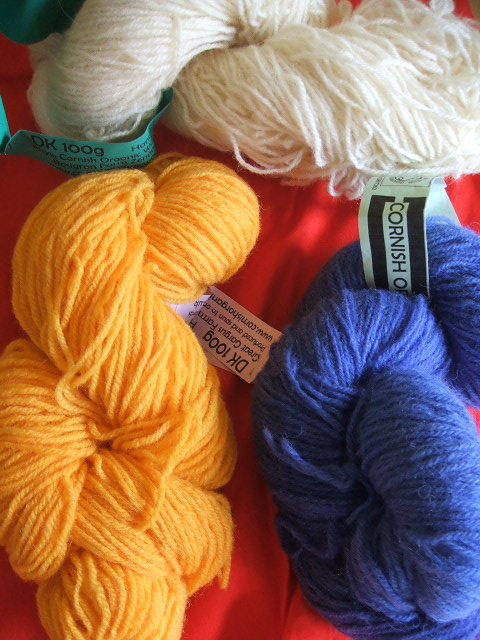 My very clever Mum spotted two hanks of organic Cornish wool for 50p in a charity shop recently and very kindly sent them on to me.  Oddly enough, I bought a hank of cream organic Cornish wool at the Country Living Fair last year (I'm pretty sure I paid £9.95 for it - oh, the lure of reckless spending on a 'day out'.)  The cream and blue colours together remind me very much of the wonderful T G Green Cornishware and I think I'll use those colours to make a Cornishware inspired tea cosy.  I believe that Cornishware also used to be available in yellow and white stripes too - although I'm not sure the yellow was quite as 'egg yolk' as the yellow Mum found.  Anyway, well spotted Mum, and thanks for sending it on to me.
I had another parcel arrive this morning with some very nice red cotton fabric in (the fabric in the background of the photos).  Ffion got in touch last week and asked if I could make use of the material  - it's such a wonerfully vibrant colour that I know it will get used.   Thank you very much Ffion, it was lovely of you to think of me.
Thanks very much too for the comments left re: my radio interview.  I think it went alright, at least I didn't say anything unbelievably stupid (well, I don't think I did!).  I was so nervous beforehand but as soon as I actually started talking it was fine and it was certainly an unusual experience for a Friday morning.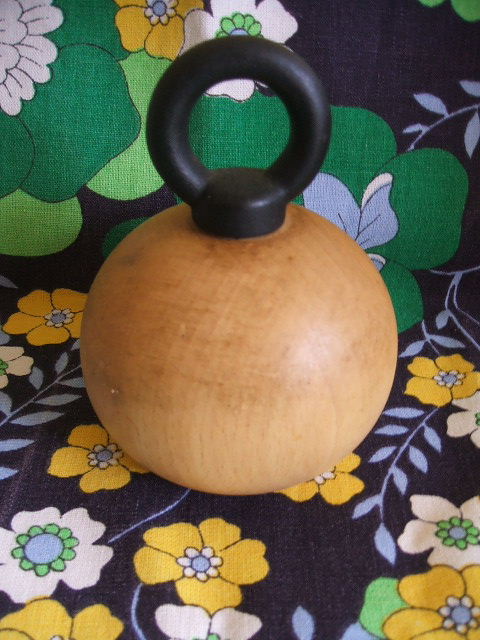 I did my usual visit to the 'Coffee and Jumble' this morning and found this rather nice Bodum wooden pepper grinder for 50p.  Now, I don't actually 'need' another pepper grinder but this one is very tactile and very solid - I wasn't sure at first if it was a door stop!!  So I undid the screw at the bottom and out clattered lots of pepper corns, after that I thought I had better buy it anyway.  This one will stay in the kitchen so that I can add seasoning whilst I'm cooking which will save me from having to keep fetching the other one from the dining room - lazy or what?