I never fail to be astounded by the cost of greetings cards in the shops.  Recently, I was looking for a Mothering Sunday card for my Mum in WH Smith's and the one I really liked was priced at £5.40 - gulp!!  Much as I love my Mum dearly I wasn't prepared to fork out that much for a card and settled for one that cost about £2.50 - and that was a very bog-standard sort of card even for that money. 
Last week it was my sister's birthday and I decided I'd try making her a card instead.  I'd left it a bit late so knew I couldn't go for anything too fancy or time-consuming to make and settled on the idea of something with her initial on it.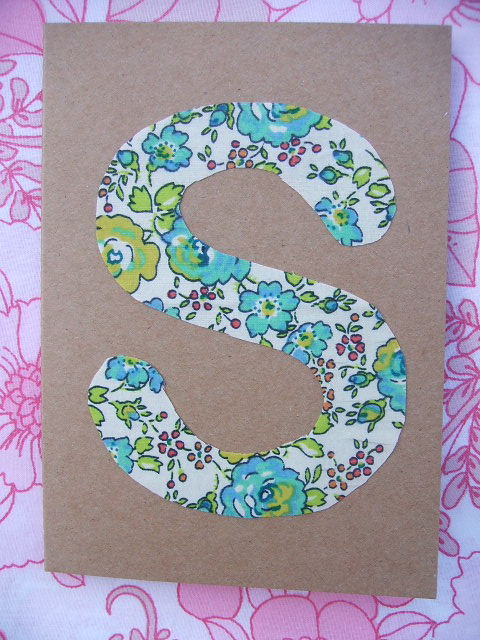 I found a little bit of some lovely Liberty tana lawn fabric I had, chose a typeface from Word, enlarged it to 400 pts and printed it out.  Then I simply cut round the 'S' shape, ironed some light interfacing to the back of the fabric and traced round the 'S' on the back of the fabric and cut it out.  I then attached it with double-sided tape to some of the lovely recycled card blanks I once got from The Makery (sadly, they don't seem to have them in stock any more.)  I was well pleased with how it turned out and all for a smidge over 50p.