I'm not much of a fan of Christmas and for the past few years - when both P and I have been away from home over the festive season - haven't bothered to put up any decorations at all.  This year, with the family coming to me on Boxing Day, I decided to splash out and put up a just a few bits and bobs.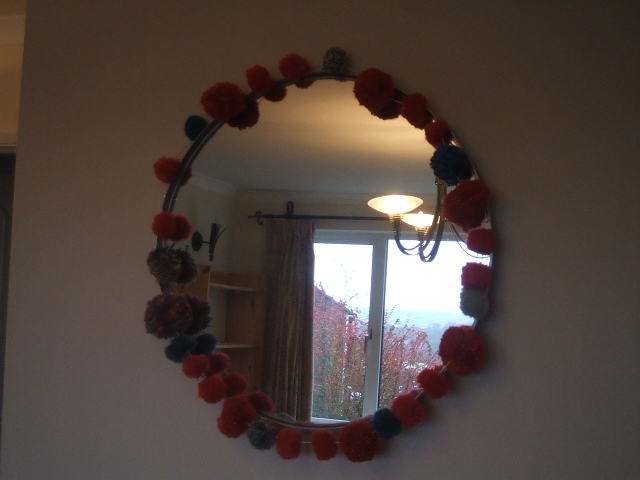 Apologies for the cr*p photo - the colours are much brighter in 'real life.'
I'm particularly pleased with the pompom garland I made a few years ago (which has never seen the light of day before, and which I feared had been left behind in Essex at the back of the cupboard under the stairs) as it fits the huge circular mirror in the living room (kindly left behind by the previous owner) almost perfectly.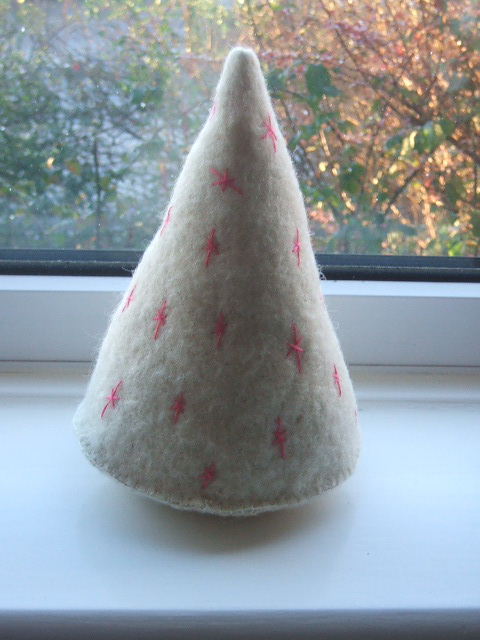 And one of my homemade embroidered mini Christmas trees is gracing the living room window sill.  I made a couple of these a few years ago from bits of an old felted cream blanket.  I've got another one somewhere but for the life of me can't quite put my hand on it at the moment. 
There are a few thrifted wooden decorations on other window sills too but the vintage glass baubles have had to be displayed in bowls as the fake Christmas tree I used to have (£1.00 from a scout jumble sale when I lived in Nottingham in the 1990's) had to be thrown out.  We'd kept it in the leaky garden shed and it had completely rusted!!  It was another item mysteriously spirited away by the scrap-metal dealer who lived across the road.  I had no idea there was any scrap value in a rusty fake Christmas tree, but he was very welcome to it!