A couple of weeks ago - when the weather seemed a lot more promising that it is now - I got my summer clothes out of their storage box.  When I'd hung them up in the wardrobe I realised that a) I didn't much like most of them and b) I didn't have half as many summer clothes as I'd imagined.  Well, luckily (!), the weather has been so miserable for the past week that I'm back wearing winter jumpers and long-sleeved T-shirts (oh, the joys of a British 'summer.)  Trouble is, I'm mightily fed up with all my warmer clothes too - having worn them pretty much continuously for the past eight months.
So, most serendipitously, this morning I found two never-been-worn-still-with-tags-attached tops which are warm enough for the weather at the moment but still fairly Spring-like in colour (I am hugely fed up with wearing 'winter' colours.)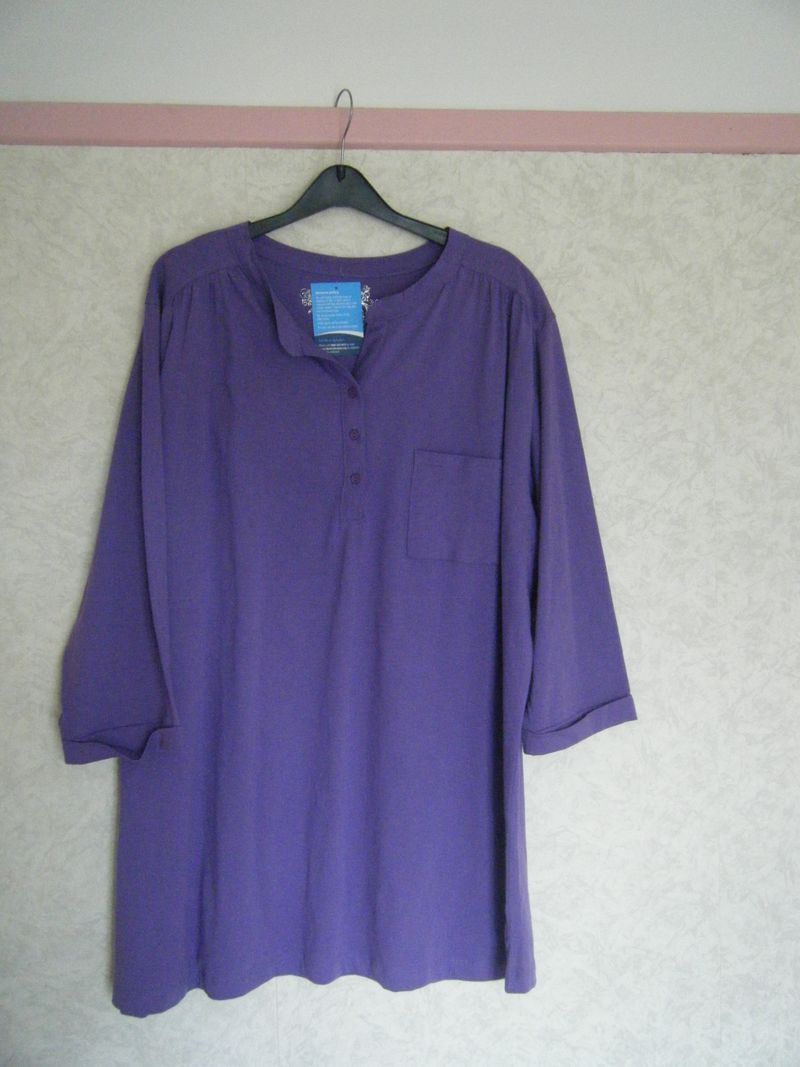 Lilac coloured three-quarter sleeve T-shirt in a lovely long length.  Hadn't realised this one was brand-new with its original tags until I got it home.
M&S pure linen top, very nice quality.  Apologies for the 'frilly' effect to the sleeves but it's got one of those odd roll-up and button sleeve things going on - which I don't get on with so I unrolled the sleeves when I tried it on.  Both tops were £4.50 - which I initially thought was a bit expensive but, having realised they are both brand new, I now think were excellent bargains.  They both came from the same local hospice charity shop.
In case you were wondering why photos have suddenly reappeared - I took the opportunity of posting whilst being able to use Mum's camera and computer.  Normal photo-less service will, sadly, soon be resumed!!