To celebrate feeling much better, I went over to Billericay this morning to peruse the charity shops and pick up a few tasty treats in Waitrose (love that shop but their prices are astronomical!!).
I didn't have a lot of success in the charity shops, a couple of books for re-sale but no new shirts for P, clothes for DN, fabric, wool, clothes for me etc etc. However, I did manage to find some very nice buttons in one of the shops.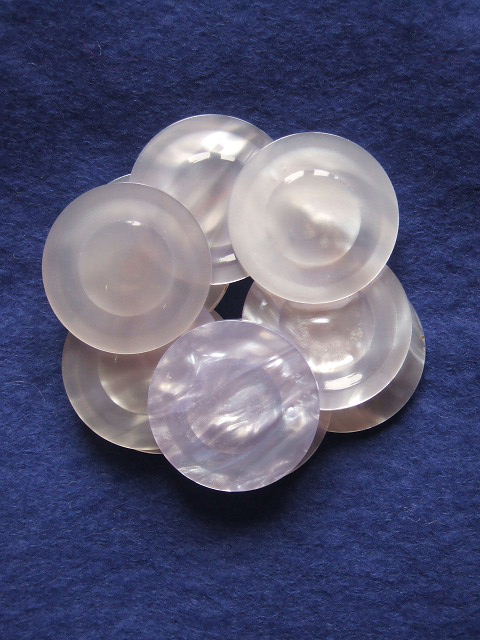 A set of 10 mottled grey / ice blue large-ish buttons.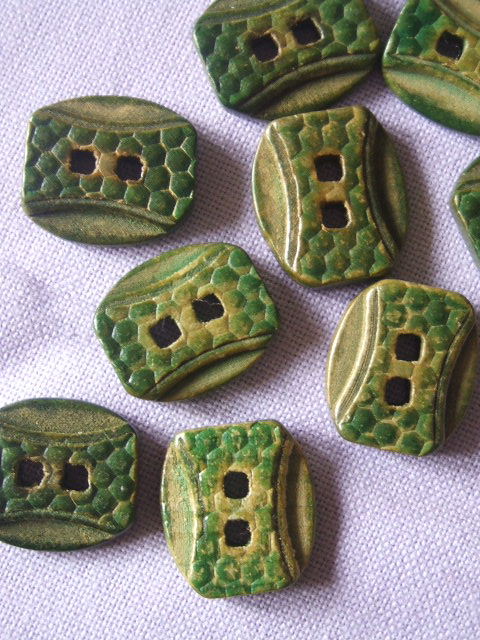 A set of 9 green wooden buttons that remind me of snake skin.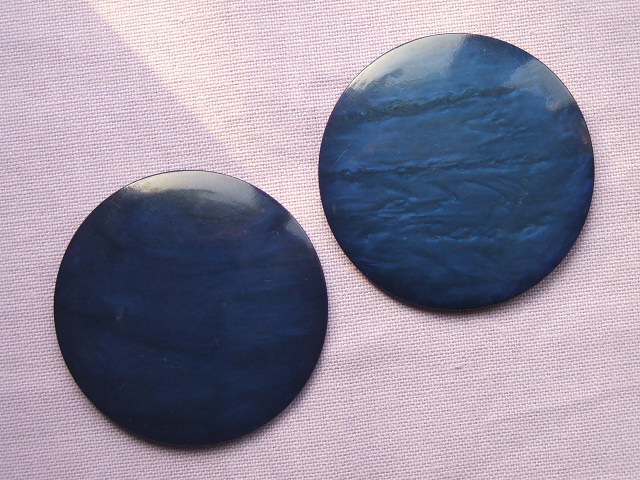 And these two whoppers. It's hard to tell in the photo but each of these monsters measures 2 1/2 inches across, they are buttons to make a serious statement with! They are a very subtle mottled navy blue and are a lot nicer in the flesh than they seem in this picture. I was very pleased with my haul of buttons, and they only cost me 75p in total.
One of the other charity shops had obviously undergone a refit in the past couple of weeks as the whole place smelt very strongly of new paint, the layout had been completely changed, and all the clothes were hanging on really posh wooden hangers. Naturally all the prices had gone up accordingly and they were asking £5.00 for a very ordinary New Look t-shirt. Admittedly it was in a 'plus' size but I seriously doubt whether it cost much more than a fiver to buy it new. I don't know why charity shops want to look like really upmarket boutiques. Surely if you want to buy second-hand clothes you are quite happy to do it in somewhat less 'elegant' surroundings as long as the prices are good. And if you want to buy your clothes from somewhere that uses expensive wooden hangers then you probably don't want to buy second-hand anyway. I also feel quite strongly that these charities should be using their profits to actually benefit the charity involved, not having expensive shop re-fits and trying to be something they are not, ie upmarket boutiques!!