Cor blimey, the past seven days have just flown by.  Not sure exactly what I've been up to but the last week has included two very full days of having builders in the house who were insulating and boarding out the loft.  It is all done and dusted (literally) now and it is very comforting to know that P's ginormous collection of law and chess books are now safely stored away in our new, dry, secure loft. 
Initially the many many boxes of books were being stored in the garage which, unfortunately, turned out not to be as weather-tight and rainproof as we had hoped and, knowing how very important his books are to P, it was imperative that the loft was boarded out and the books moved ASA-flippi'-P.  It's very comforting now to be able to look out of the window and see the rain lashing down and not have to worry that all P's precious books are getting damp or, even worse, water damaged because of a leaky garage roof.
In the main, I've left most of my boxes of 'stuff' out in the garage (though carefully placed to avoid damp or rain) so that I can sort through them and hopefully get shot of a lot of the cr*p I've been carting around with us for the past 17 years.  There's still plenty of room up in the loft so anything I do decide to keep hold of can be stored up there too.
Saturday afternoon I went to a (fairly) local jumble sale, didn't come away with much but it was nice to get back in to the swing of ploughing through other people's cast offs in the hope of finding a thrifted nugget or two - which I did.  There's a (fairly) local table top sale this weekend which is on a direct bus route so I might check that out as well.
For the first time in well over a decade I applied for a job!!  I saw it advertised on the local Gumtree site and as it is only a temporary, non-office-based vacancy I thought I'd give it a shot.  Needless to say I've not heard anything at all - not even an acknowledgement of my e-mail - but after watching P struggle to find a job for two years, and the outrageous rudeness and lack of civility he encountered, I'm really not surprised!!
I've also started a bit of knitting in preparation for 'The Travelling Flea Market' where I've booked a pitch.  If anyone is in the Bristol / Bath area, the 'Travelling Flea' will be at the Fear Institute, High Street, Keynsham on Saturday March 9th from 11.00 am - 4.00 pm.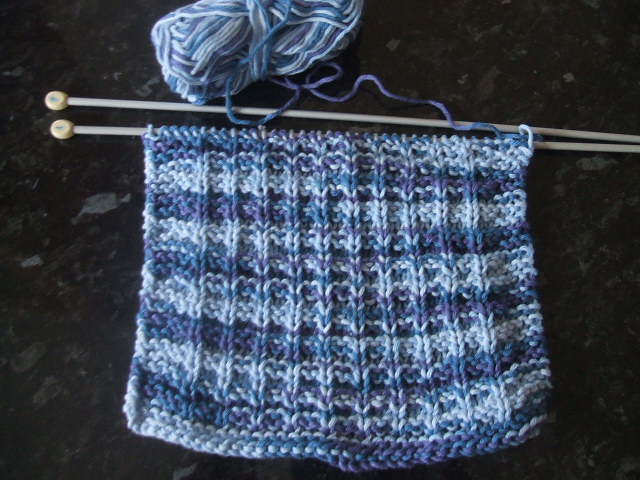 At the moment I'm knitting pure cotton waffle-weave facecloths in some lovely variegated yarn I found for 50p per ball in a local charity shop.   I've got a box of various handmade bits and bobs that I'll also be taking with me - pillowcase tote bags, vintage fabric coasters and handmade cards.  Plus, I'll be bringing some of my lovely vintage bits and bobs that I'll (hopefully) be unearthing from the boxes in the garage - I just need to search through them all first!!