After another chiropractor appointment yesterday, I'm feeling very battered and bruised today - the cheerful euphemism given by the chiropractor was, 'you may feel a bit 'tender' for a day or two.'  Tender?  Hit by a truck more like!  That, coupled with yet another very disturbed night's sleep, meant the limit of my day has been going to the newsagents to get a paper.  Of course, whilst I was there I thought I might as well walk round the corner to the charity shop I very rarely go to.  I'm glad I did as I found one of my favourite films ever on video.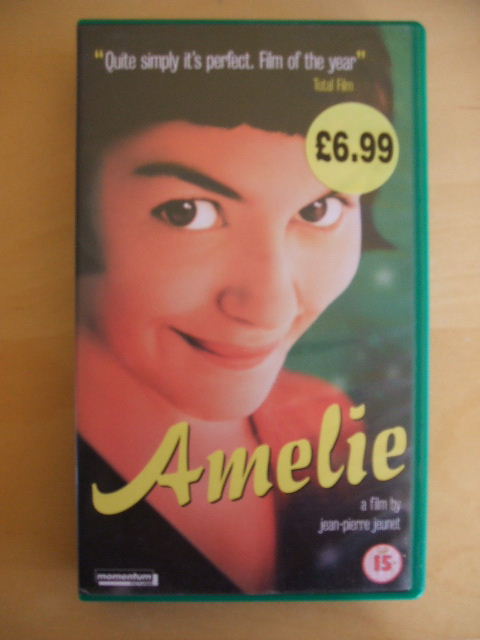 I've only seen 'Amelie' once - it was the Channel 4 Christmas Day film 5 or 6 years ago - but I found it absolutely enchanting.  I'm very much looking forward to sitting down later and watching it again, even the cover makes me feel more cheerful.
The 'Cornishware' tea cosy turned out most strange - sort of triangular and probably best suited to a Cornish Piskie - so that got frogged and I've now decided to knit myself a 'Cornishware' striped hot water bottle cover.  A hot water bottle has become my best friend these past 10 days or so (along with a cool-gel pack) to stop the spasms around my ribs.  I've had the same hot water bottle cover for at least 20 years - I think it came from C&A (and they've been gone from the UK for many years).  It's very nice but is in the shape of a white Scottie dog and has rather a large cuddly toy head on the top of it - which is all very cute but is a bit of a pain when the hottie is shoved behind my ribs in bed.  So a very simple ribbed hottie cover has been started and I'm hoping to get a lot more of it done whilst I'm enjoying 'Amelie'.