Yup, that was what I came back with from the charity shops in Billericay. 
Three new pairs of underpants for DN, 25p each or 5 for a £1.00 (sadly, could only find three pairs in his size).  These apparently had been donated, along with lots of other childrens underwears, socks etc, by Tesco.  Seems a bit of an odd concept to me but I'm very glad I managed to take advantage of Tesco's generosity (every little helps as they're so fond of telling us.)  I'm quite proud of the fact that I must be amongst a very small proportion of the UK population who almost never shop in Tesco.   It's not just that I feel Tesco have way too big a percentage of the UK food market, and a stranglehold on many high streets, it's also that the nearest Tesco to me is totally inaccessible by public transport.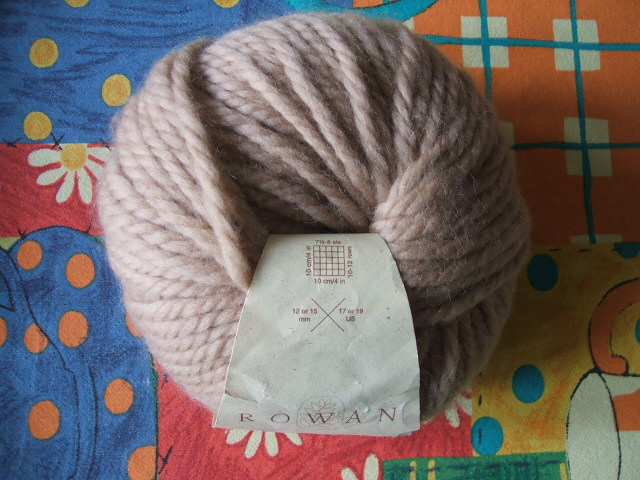 In the same charity shop I found a 100g ball of Rowan Big Wool in a shade called 'Latte' apparently.  More prosaically I would have called it stone.  Not sure what I'll do with it but at £1.99 it was coming home with me.  I so rarely find any decent wool in charity shops these days that anything that's not a 'fun' yarn, or 100 per cent acrylic (and sometimes even bri-nylon makes an appearance - scary!!) tends to be given a good home with me.
In the only really 'rummage-able' charity shop left in Billericay, I found a video of Tom and Jerry cartoons.  For only 25p I was willing to take a gamble that they were the original 1940s cartoons (produced by Fred Quimby) and not the hugely inferior 60s versions - having watched a couple whilst having my lunch I can confirm they definitely are the real deal.  I love Tom and Jerry and always have, they still make me laugh out loud in places.  Why aren't they ever shown on telly any more? 
I was very kindly given an award by Sharie  last week - The Marie Antoinette Award - thank you Sharie.  Sharie finds some wonderful bargains at car boot sales and bazaars, check out her latest find - a beautiful red set of scales, they are, in the words of Craig Revel-Horwood, 'fab-u-lous' 
The Marie Antoinette Award- a real person, a real award