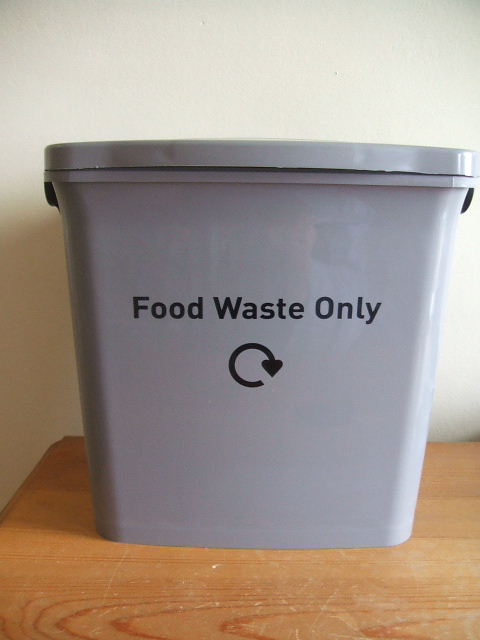 Look what's been delivered by the council this morning - six months later than originally stated - yup, the dreaded food waste bin (aka a slop bucket.)  I've had quite a lot to say on this matter before (but, darn me, I can't find the exact blog post where that particular rant took place.) Suffice to say, I shall not be using it.  HOWEVER, before I get shot down in flames about not doing my bit for recycling, let me clarify a few points.
This new food waste bin is only for kitchen use and should be emptied into the green wheelie bin (previously only allowed to contain garden waste) when it is full. Said green wheelie bin will now be emptied once a week instead of once a fortnight.  I've decided to skip the whole food waste bin step and just resite the wheelie bin to outside the back door where I can easily chuck fruit and veg peelings and any stale bits of bread etc.  Allegedly you can also put in any meat, fish or dairy bits of leftovers too (I say allegedly as how on earth can you make compost from animal products?). This I shall most certainly not be doing because a) I really really don't want a maggot-infested wheelie bin and b) I hardly ever have meat or dairy scraps anyway (fish is something rarely eaten in this house) and any scraps I do have from meat goes out for the local fox (or more likely is snaffled by next door's cat before the fox gets a look in.)  Any bits of mouldy cheese (and those really are a huge rarity as I love cheese and try never to waste any) get put out for the birds (or next door's cat again) to eat.
My real criticism with this food waste bin though is that our local council is STILL making us use black plastic sacks for our refuse collection, which is a wicked thing to do in my book as plastic takes pretty much forever to break down in landfill.  Having had several discussions with the council refuse department about this over the years it seems that introducing wheelie bins for general refuse collection is too expensive. However, they can find the money to give us all slop buckets when they face huge EU fines for not recycling enough.  Somehow a council that is stuffing landfill sites with vast quantities of black plastic sacks I consider criminally negligent regarding recycling - slop buckets or not!!
What do you think?  Do you have a food waste bin in the kitchen?  Has it ever been maggot infested?  Am I just being a complete wuss about the whole matter?