I'm not a great one for omelettes, and am never very successful in making one either, but faced with half-a-dozen two-days-out-of-date organic eggs, a green pepper, a few mushrooms, half an onion, two slices of parma ham, and a couple of really ripe tomatoes as the basis of an evening meal, I had to bite the bullet and try making one.  I found a really useful recipe here which gave lots of hints, tips and ideas for making a decent Spanish omelette and we ended up with a very tasty evening meal.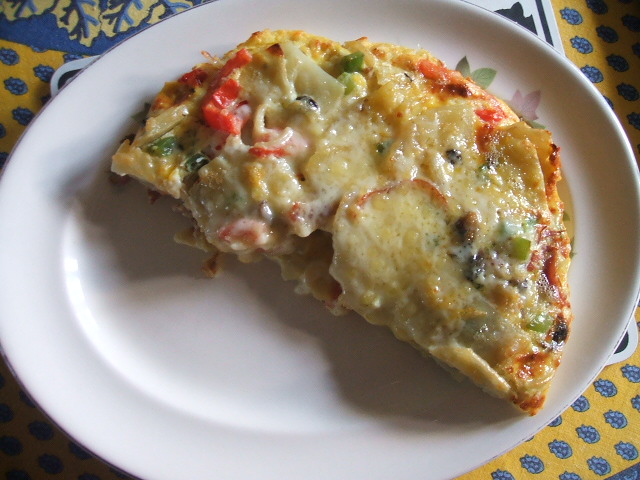 Served up with what was left of an iceberg lettuce this was a great way of using up lots of tiddly bits and pieces that were floating around in the fridge.  I suspect this recipe (or something like it) will be making several re-appearances in the not too distant future.
Another great way for using up all sorts of bits and bobs that I've started doing lately is stuffed cabbage leaves.  I suppose it's loosely based on the Greek dish of stuffed vine leaves but uses up the outside cabbage leaves in a really tasty way.  I stuffed the par-boiled cabbage leaves with some cooked waaaay-out-of-date wholemeal rice (best before March 2010, ahem) with a bit of fried onion, a few mushrooms and a jar of not-very-nice-on-it's-own cream cheese and pepper spread and a bit of tomato puree and then the whole lot was covered in a cheese sauce.  It was tres tasty and did us two evening meals - although the second meal had the addition of a couple of sausages on the side too.
Having been totally shocked by the rocketing price of meat in the local Co-op supermarket, I think there''ll be a lot more veggie dishes on the menu over the coming few months.  Anyone have any nice, warming veggie recipes they'd care to share?