I always enjoy a good root around the charity shops when I'm in Bristol, and Mum is always game for a trip a bit further afield than her usual haunts when I am visiting. So, this time, we decided to take ourselves across the city to the dubiously-named Blackboy Hill / Whiteladies Road area in search of bargains. I know, I know - the names of these roads are probably the most politically incorrect of any road names in the UK as they reflect Bristol's somewhat dodgy past in relation to the slave trade. Apparently the names come from the eighteenth century when it was fashionable for wealthy merchant's wives to have a 'blackamoor' page boy as a personal servant. The 'white ladies' would go shopping and the 'black boys' would be left waiting for them - and these somewhat iffy names have continued until the present day.
These days this area is heavily populated by students at the University of Bristol and is also quite a mecca for charity shops. As always when we visit this area, our first port of call was the Salvation Army charity shop. This time it proved to be particularly fruitful for me as I picked up loads of knitting / sewing booklets at 10p each, a very nice Marks and Spencer shirt for P for £3, and a Buzz Lightyear toy for DN for 20p. This particular Salvation Army shop always has a box of free books by the till and I poked around and picked out a couple of books. One of those proved to be a great find for selling on Amazon, I listed it when I got back home for £29.95 and it sold the next day - result!!
I'd been on the lookout for a new winter coat or jacket for myself and was delighted to find this one in the local hospice charity shop.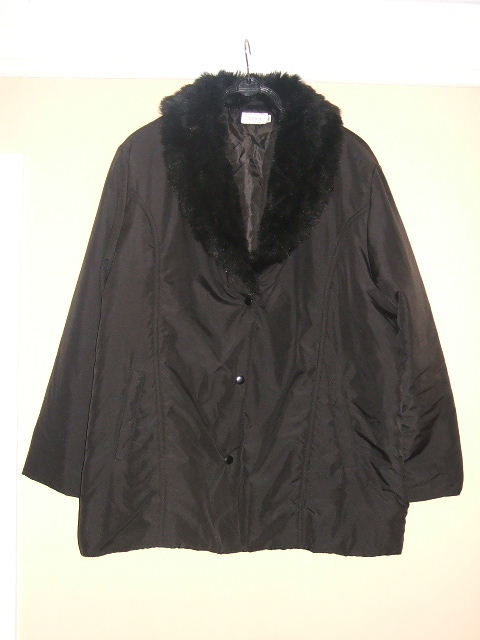 I'm not sure that I would have gone for something with such a large faux-fur collar if I had been buying this new in a shop, but it's in nice condition, it fits well and it was a good bargain - what more could I want!! It was just as well I bought it as the weather was a lot colder than I had expected it to be so it had already had plenty of wear even before I got back to Essex.
In another charity shop I bought 200g of a chunky Sirdar wool in a lovely dark petrol-blue colour. I was thinking about using it to knit a scarf but in the end have used a pattern for a nice knitted handbag which I found in one of Mum's knitting books.
This picture was taken last Thursday and I've already finished knitting both pieces for the bag now - ahh, the speed of knitting with 6.5mm needles and chunky yarn.
It's just as well I had a bonanza in Whiteladies Road as visits to the charity shops nearer to Mum's house proved to be rather disappointing. It never fails to amaze me the prices that are asked in some of those charity shops - don't they realise that, in some cases, it would be cheaper to buy the item new!!