There hasn't been much opportunity for charity shop browsing during my stay in Bristol.  Mum is not up to going out at the moment and the weather has either been too hot or too wet for me to venture very far afield.  However, I have perused the charity shops on the couple of occasions I've been out to the local supermarket. 
The local shopping area here has quite a few charity shops but, dear oh dear, they are hideously expensive.  I think I've been very spoilt by the two charity shops in Wickford who tend to charge £2.00 or at most £2.50 for items of adult clothing and 50p or £1.00 for childrens clothes.  No way would I pay £3.00 or so for a well-worn child's T-shirt when it could probably be purchased new in Asda or Tesco for about the same price.  The adult clothing all seems to be priced from £4.00 upwards which, admittedly, is much cheaper than what you would pay for it new but still seems extortionate to me.
I've only bought one item of clothing from the charity shops here this time - a rather spiffy Ann Harvey black top with lovely beaded detail on the front. I took a bit of a chance on it looking good on and did balk a little at paying £4.30 for it but having washed it and tried it on I'm very pleased with it.  I'm thinking I may wear it on my upcoming birthday as it's quite smart without being too formal.  Possibly teamed with some white linen trousers that I bought last year and haven't had a chance to wear as yet.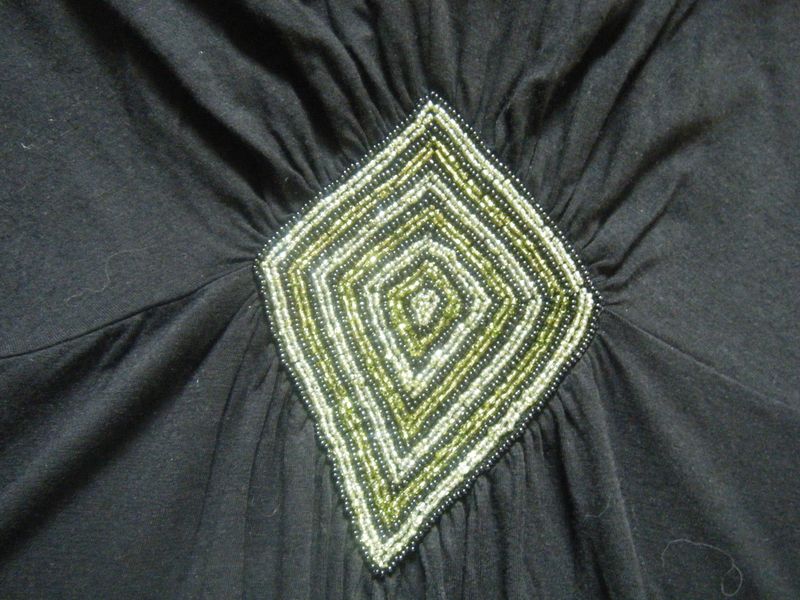 If you look carefully at the photo you might see a white cat hair attached to my new top - that'll be Lily the Maine Coon who drops fur on a constant basis.  Whenever I go home from a visit to Bristol all my dark clothes have a subtle furry texture, especially the seats of my trousers as Lily likes to doze on the settee just in the place where I usually sit!