Well, Saturday was not quite the runaway success that we'd all been hoping for.  I did have a few sales but it wasn't really worth all the hardwork and effort.  Never mind, nihil desperandum and all that jazz, I'm now thinking I may start a Folksy shop to see if I can sell some of my sewn and knitted items that way.  One really lovely surprise on Saturday was when Caroline called in to say 'hello' as she and her husband had been staying in a hotel in the area.  It was so nice to meet someone that I've known for ages online but had never actually met.  Thank you so much for calling in, Caroline, it was a real pleasure to meet you and Ashley.
The afternoon session was particularly quiet so I took myself off to the High Street in Keynsham in order to check out the charity shops.  It's only a shortish High Street but there are quite a few charity shops and I managed to find myself a rather nice dip-dyed Evans summer top (though at the moment - with a wind-chill factor of -7 degrees -  it feels like it'll never be warm enough to wear summer tops ever again.)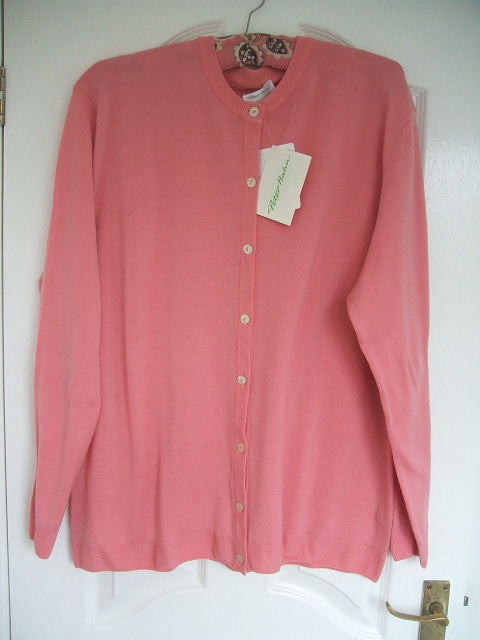 Plus, in the same charity shop, this beautiful brand-new Peter Hahn cardigan made from pure Tasmanian wool.  The colour is a lovely pale raspberry pink and it fits like a dream.  I paid £4.95 (it had been reduced from £8.00.)  I've checked out the prices these cardis go for new and we're talking around the £100 mark.  So, excellent bargain find there, then.