As the glorious high-summer-type weather shows no sign of leaving the UK any time soon, I took myself off to the much smaller Thursday car boot sale. Although still extremely hot it was much nicer than the one on Sunday because it was a lot quieter, for both buyers and sellers, and I didn't have to walk so far to get to the stalls. I bought a few books for re-sale, most of which were no good and have ended up back in a carrier bag next to my desk, just waiting for me to donate them to the local charity shop, but I also got a couple of interesting little items.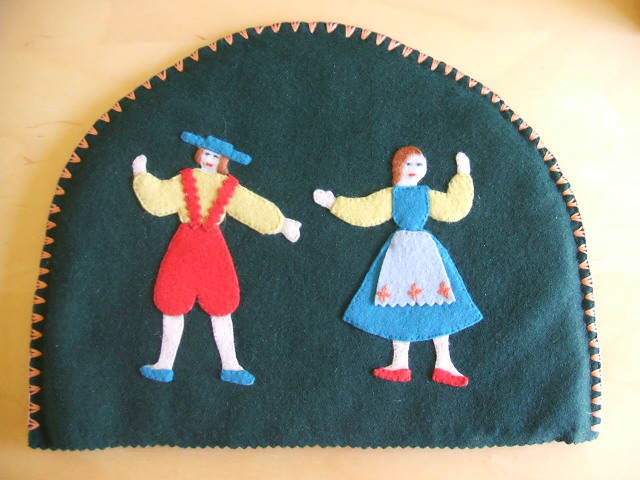 An unusual folk-art style felt tea cosy in very nice, probably unused, condition - 50p. I almost didn't ask the price of this as it was on a stall which seemed to be dealers, and only went back on my way out of the field. I was really pleased, and surprised, that it was only 50p. I'm a bit of a 'looby' about asking the price when the people seem to be 'professional' sellers - and I'll let this example be a lesson to me - it may not be as expensive as I fear.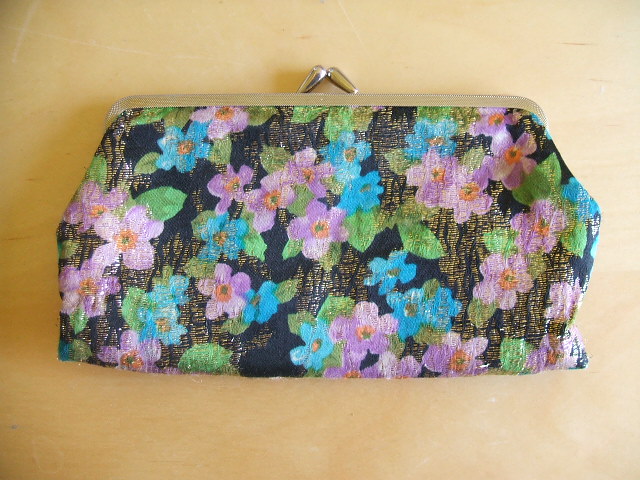 I also got this vintage large purse / small clutch bag for 20p. I had no worries about how much it was going to be as the woman running the stall had large notices everywhere saying 'everthing 20p', she was also shouting it out at regular intervals. It certainly worked as I doubt I would have bothered rummaging through the numerous boxes she had if the price hadn't been so cheap.
Today, in the local charity shop, I came across the biggest cuddly Spiderman I've ever seen - he must have been 3 feet tall (almost, but not quite, as big as DN), and he was only £1. I would have loved to have bought him for DN, who rightly claims to be 'Spiderman crazy', but he was sooooo big and soooo heavy that I'd never have been able to get him back to Bristol. As Mum pointed out, I'd probably have to pay for a seat on the train for him!!
As the weather is so glorious at the moment, my back door, and most of the windows are open wide whenever I'm at home. Yesterday lunchtime, whilst I was on the phone, I heard a lot of commotion from the birds in the garden. There was really loud screeching, squawking, and general twittering going on, I thought nothing of it as there have been a lot of bird fights lately. Five minutes or so later I saw something hopping across the living room floor - I shrieked, fearing it was an extra large rodent, and then realised it was a bird. The poor thing had squashed itself into a corner and was clearly in a state of some distress. I went out into the garden, hoping that the bird would find its own way out of the house. A few mintues later I went back indoors to find it flapping around the french windows, by this time I'd realised it was a female blackbird, and the male bird was also flapping about on the outside of the windows. I was a bit loath to open the French windows as they're rather old and temperamental and I don't think we've ever opened since the day we moved in. I had to get a hammer to move the latch but eventually got the windows open. After about five minutes the female blackbird did indeed hop out and then I could see that she was quite badly injured, one wing had blood on it and was hanging at a strange angle. I fear the poor little thing was not long for this life. Today, also at lunchtime, I heard another lot of loud twittering and squawking from the garden, sadly I found next door's cat stalking birds. I fear he was the culprit for yesterday's injuries too!! Nature truly is red in tooth and claw.