Aside from the excitement of being on the radio and having a pattern of mine in a magazine, there have been other less pleasant activites going on as well.  Both of which were sadly necessary and flippin' expensive!
For anyone who has read my blog for a while you'll know that we have had an ongoing rodent problem in the house for the past 18 months or so.  We managed to catch 'Mistress Mouse' in a humane trap last summer and released her out in the countryside - a job well done we both thought, and the end of the mouse problem.  Sadly, this wasn't the case, and within a couple of days 'Maurice' had moved in.  For months he just gnawed loudly in a corner of the kitchen and was only spotted very occasionally darting under the kitchen units.  Lately he'd upped his game and had started nibbling any food not stored in mouse-proof containers, left large piles of mouse poo around the place, and totally ignored the various (and expensive) electronic rodent devices plugged in about the house.  We've tried evicting him on many occasions but the little git always gets back in somehow.  Ten days ago he developed a new trick of galloping around the living room during the evening - frightening the living daylights out of me every time.  At that point I felt right you little swine, it's time for the rat catcher.  I picked a number from Yellow Pages (I had no idea there were so many 'pest control' services available in such a small area) and that afternoon the 'rat catcher' turned up and liberally set little cardboard bait traps all round the ground floor.  I kept telling him how guilty I felt about poisoning mice in order to get rid of them but this seemed to meet with total incomprehension, as I suppose it would if your job is pest control (there was also a touch of the 'Village of the Damned' about him if you get my drift!!)
Anyhoo, no sign of mices has been seen since - although apparently a fair bit of bait had been taken (Mr Rat Catcher came back yesterday to check on the traps).  This time I really do hope we've got to the bottom of the problem.  Maurice, I am very guilty about hastening your departure from this mortal coil but you'd taken the proverbial once too often and it was either you or my nerves, and my nerves won.
I've also had an ongoing problem with my right hip for the past couple of months.  I didn't bother going to a doctor - too scared to find out if my hip joint was crumbling and I can't take the inevitable high-strength painkillers I would have been prescribed.  After a couple of weeks having to use a walking stick to get about (didn't half help with no spending days though as I couldn't even be bothered to 'hobble' to the High Street), I made an appointment with a chiropractor.  I have great faith in chiropractors having had a trapped nerve in my shoulder successfully sorted by a chiropractor a few years ago.  After only two appointments I've managed to get out today for the first time sans walking stick and the hip is feeling so much better.  Chiropractors are not a cheap option but my goodness me they do work and are worth every single penny.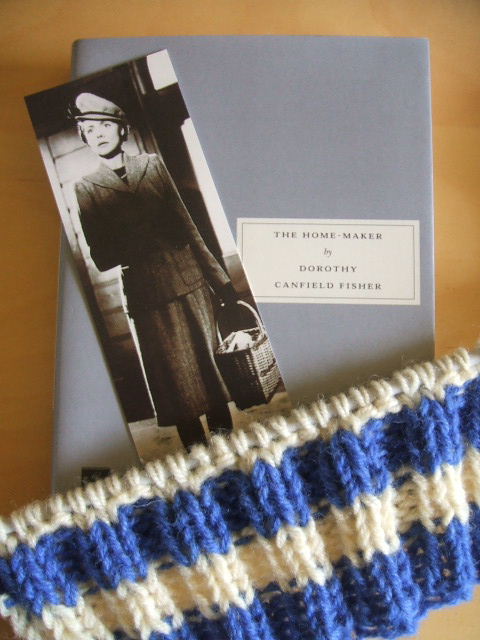 On the thrifting front I got this Persephone book 'The Home-Maker' by Dorothy Canfield Fisher for 50p in the charity shop this morning.  The distinctive grey Persephone covers are always easy to spot in a pile of books, although I think this only the second one I've ever found whilst thrifting.  I look forward to reading it as a nice change from my usual diet of endless thrillers and crime novels.  I also started knitting the 'Cornishware' tea cosy yesterday evening.  I'm not totally convinced it's going to work - there's a distinct touch of a Bristol Rovers supporter's hat to it at the moment.