This morning was the 'Grand Christmas Bazaar' at one of the local churches.  It certainly deserves to call itself 'grand' as it is always far and away the best Christmas Fair around.  There were hordes of people there - most of them swarming around the bric-a-brac table - which meant I had a fairly easy time picking up some wonderful toiletries for a song.  There were shower gels and soaps galore, a nice Body Shop Body Butter and, the piece de resistance,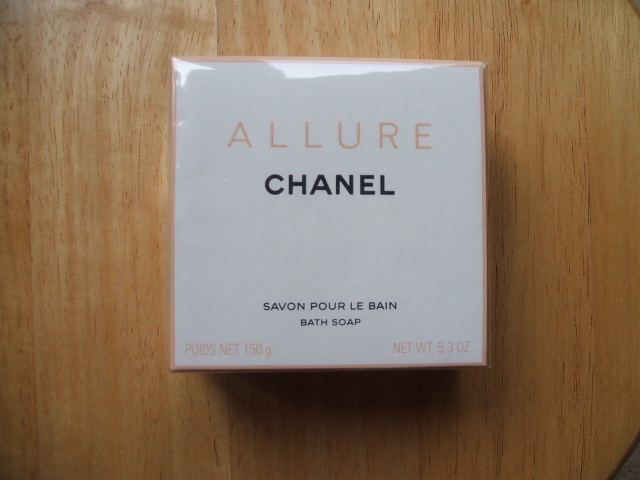 a brand new, still sealed, 150g bar of Chanel Allure bath soap for 50p.  I had a quick look on Google when I got home and apparently this retails for around £18.00 (what the ??), so that was a wonderful bargain. 
I also bought more home made preserves - this time a Ginger Marmalade, a mixed summer fruits Jam and some home made Lemon Curd - yum - lemon curd is my absolute favourite and I don't think I've ever tried home made.  Oddly enough, I've come across a couple of recipes online this last week or so for Lemond Curd / Cheese.  I could be tempted to give it a go.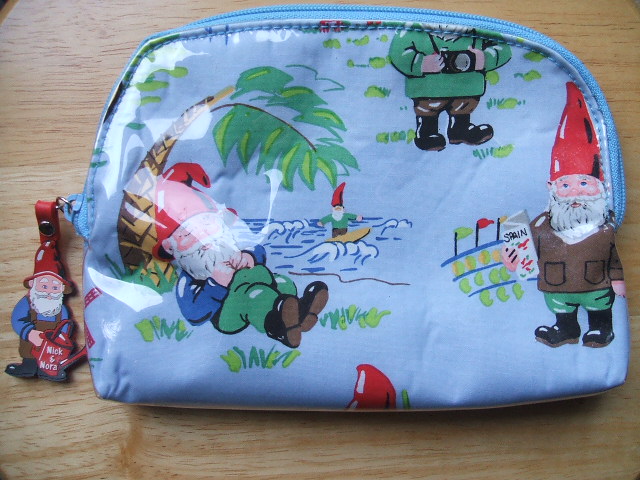 Last year at the same Christmas Bazaar I was lucky to find a Nick & Nora gnome-print toilet bag.   Today I found the matching make-up bag.  Now I don't actually need a new make-up bag but didn't want to leave it sitting there forlornly on the table, so I thought I'd offer it as a giveaway to anyone who'd fancy having it.  The gnomes are cheerful little chaps and are shown enjoying themselves all over the world, there's another little gnome as the zip pull.  If you'd like the make-up bag (and I'll add a few other bits and bobs to the giveaway as well), just leave a comment on this post.  I'll pull a name out of the virtual hat next Friday (28.11.08).  I'm happy to post anywhere in the world.