As the weather was really lovely this weekend I went off to the local car boot sale yet again.  With each week that passes I begin to wonder if this week will be the last time I manage to get to a car boot this season but, fingers crossed, the weather seems well settled at the moment with a large high pressure centred over the British Isles. 
I didn't buy much this week even though there were a lot of sellers - and hardly any of them were traders, thank goodnes - but a huge proportion of them seemed to be selling baby and toddler items.  Great if that is what you're looking for but not much use to me.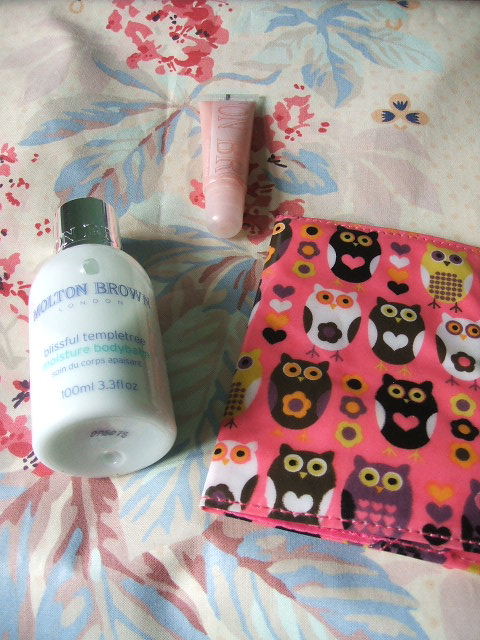 Pretty much everything I bought was colour co-ordinated, either pink or blue.  There was a very cheerful PVC passport holder in a bright cerise pink with owls all over it.  Not strictly a 'necessary' object but good fun nonetheless and it was only 20p.  Also 20p was a tube of Molton Brown Lipsheen - a sort of slightly-coloured lip balm - I had a look on the Molton Brown site and these things retail at £11.00 each!!!!  Who one earth would pay £11.00 for a lip balm!!  I have quite a collection of these types of things - one downstairs in the living room, one in the bedroom, one in the pocket of my shopping trolley and another in my handbag as I hate it when my lips feel all dry and cracked - yuk.  This new one will soon get taken into use.  I also found a bottle of Molton Brown body lotion which was a tad pricey at 70p but Molton Brown is a really nice brand and the scent to this one is lovely.
I also bought a 3 metre x 54 inch wide piece of Osborne and Little fabric for £1.50.  It's a good home dec. weight piece, pure cotton with a glazed finish to it.  It really is a lovely print - Candle Chestnut - in such beautiful sugared-almond colours although I've no idea what I'll do with it!
If anyone is interested the plum and apple crumble on Friday was delicious and the fact that I'd stewed up the fruit before putting it in the oven didn't seem to matter one little bit.  The roasted tomato sauce was fantastic too (I certainly won't bother to stand about skinning tomatoes in order to make tomato sauce ever again).  The whole meal was a great success and it was even sweeter knowing that most of the ingredients came from our own garden.