A couple of very small projects have been completed recently.  First up, a little cloth pouch for P to keep his tie in on the way to and from work.  He has to wear a shirt and tie (and a suit) for his work but hates the tie and only puts it on just before he gets to work and takes it off again immediately he leaves.  For the past few years he's been putting his ties in a very manky old carrier bag in his briefcase but now he's got a custom made little pouch to keep them in.
Made from an offcut of denim which I've had so long that I've no idea where it came from, fastened with some of the trim I bought earlier in the year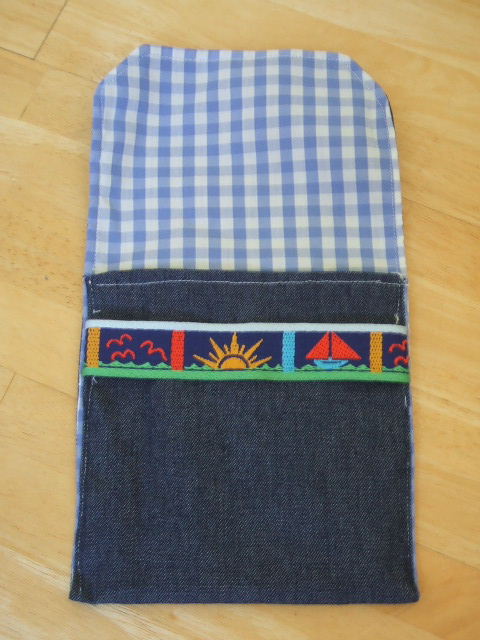 and lined with a bit of the check shirt from the charity shop which turned out to be too frayed on the collar and cuffs to wear.  It's not the neatest sewing job I've ever done - I had a bit of trouble with the trim - but it's definitely an improvement on a ratty old Boots carrier bag.  P seems to like it anyway.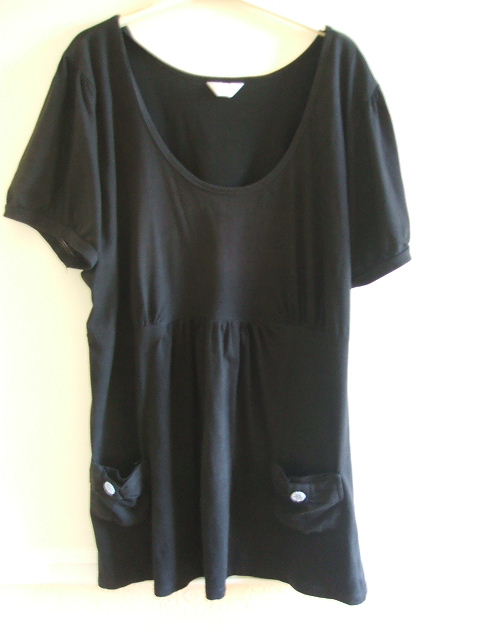 And for myself, there was the addition of a couple of buttons to a very plain black top.  The top was one of a few I got for 50p each at the car boot sale a couple of months ago but which I hadn't worn because the fabric was a bit too thick when the weather was really warm.  Things have cooled down a tad now and I really like the style of the top - nice and long over jeans - but the funereal black was a bit too much for me so I added a couple of flower-shaped buttons to the pockets. 
I know they're only a tiny detail but they seem to alleviate the tedium of plain black just nicely, and the colour goes well with the washed-out charity shop jeans I wear this top with.