When I was a child I thought there couldn't be anything more cosy than spending the night in a VW Camper Van.  This was in the late 1960s when those camper vans were all the rage.   Someone who lived across the road from my parents' had one and it had one of those stripey roof-extension things - I thought it was the most amazing looking vehicle ever (although I was also rather taken with those cars that were sort of Tudor-looking with wooden bits in the bodywork.  Not sure what those were called, anyone know?)  Anyway, I'm still very fond of VW Campers even now and would really love to own one.  Sadly, I don't think my finances or driving skills would ever stretch that far and these days I'm not too sure how comfy they'd be to bed down in for the night either - not with my dodgy hip!!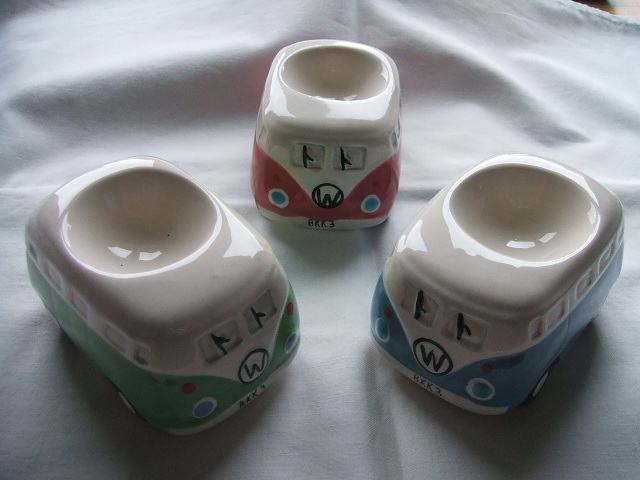 Still, I was pleased to find these three VW Camper egg cups in the charity shop 20p box this morning.  The lady behind the counter asked me what they were for as they'd had no idea what they were.  Which probably explains why they were stuffed into the 20p box.  I'm hoping they'll do OK on ebay in the run-up to Easter, though if I had a bit more space I'd be tempted to keep them.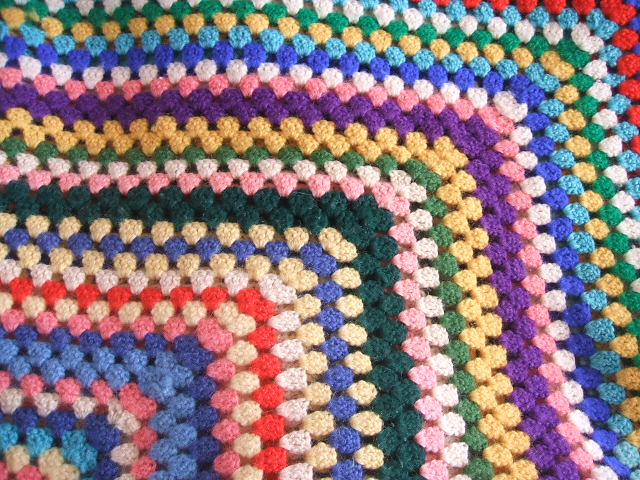 Continuing the vintage-camper-van-type of theme, I also found this rather spiffy crochet granny blanket in the junk shop last week.  It was only £2.00 and is a good large size.  I love the colours its been made in and again I wouldn't mind keeping it (especially as it's now had a good wash and dry in the fresh air) but I simply don't have the space.  It'll be another one for ebay.